Opening range breakout trading is popular across markets and timeframes. It's versatile enough to be used in unpredictable foreign currency and stock markets. It can also be adjusted to suit individual trading time frames.
Opening range breakout trading involves determining an asset's price range in the first few minutes or hours of trade. Often called the opening range. Traders look for breakouts, which occur when the price moves past the beginning range.
Investors may earn greatly from this breakout's price movement. The opening range breakout method requires traders to comprehend the market and its behavior. They need entry and exit rules to guide their transactions and control risk.
This article will teach traders how to find and manage profitable opening range breakout trades. It will discuss opening range, entry and departure rules, and risk management. Using this information, traders may use opening range breakout trading to boost earnings and reduce losses.
Note
: Get Your Free Strategies for Trading the Opening Range Breakout below.
Free PDF Guide : Get your Strategies for Trading the Opening Range Breakout
Table of Contents:
Understanding the Opening Range
A market's opening range is an asset's highest and lowest values. The opening range breakout technique often uses a 15-minute or 30-minute starting range, unlike other traders who prefer one-hour time frames.
After each daily session, traders use the opening range breakout approach to trade individual stocks. To predict market direction for the session, identify the opening range within 15 to 30 minutes of market opening.
Forex traders can use the opening range technique in many ways. UK, US, and Asian currency trading times are among numerous. These sessions might help traders spot opening range breakouts.
The opening range breakout strategy predicts the market's direction for the rest of the session. Traders will hope for daily gains if the stock breaks above its original range. If the stock breaks the opening range and continues to fall, traders will search for selling opportunities.
Daily Opening Range Breakout Strategy
The opening range breakout trading method requires the daily session and candle for non-Forex markets. The fresh opening range starts when the daily candle burns out and a new candle forms.
Choose a case from the example below. In the daily chart, the candle has just finished developing, showing the daily high and low. A 15-minute chart might provide the initial range.
The opening range breakout trading strategy requires traders to monitor the daily session and candle development. Trading techniques can identify breakouts from the daily high and low. Observing smaller time periods can also help traders comprehend the opening range and improve their entry and exit tactics.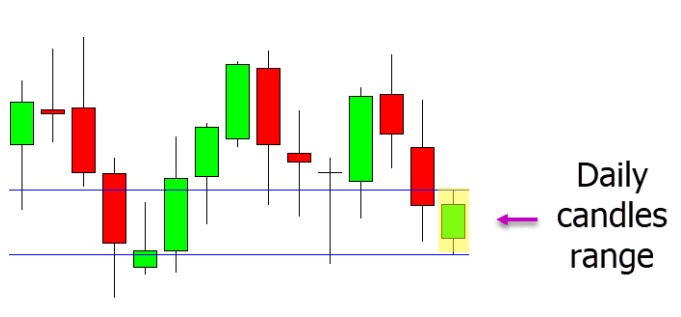 15-Minute Opening Range Breakout Strategy
Let's look at an example where the price just generated the first daily 15-minute candle, which starts the session's range. The opening range breakout technique's signals are stronger when the opening range is longer. One-hour charts are more important than 15-minute charts.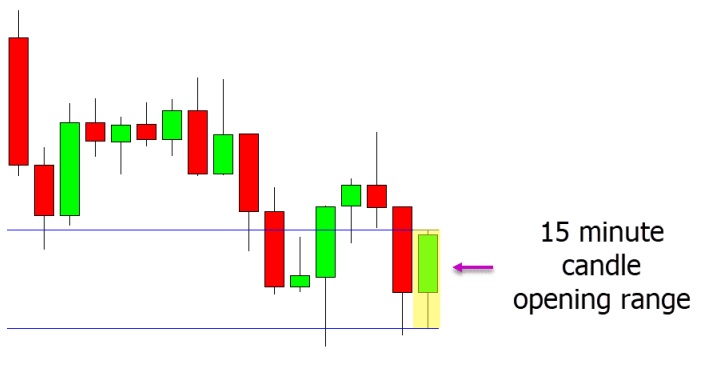 The 15-minute chart above matches the one-minute chart below in the opening range. This condensed time frame helps us understand the 15-minute opening range session.
Pay attention to how the price violates the opening range to find prospective trades. The price passes above the starting range, suggesting a long trading opportunity. This breakthrough allows traders to establish a long position in anticipation of more momentum.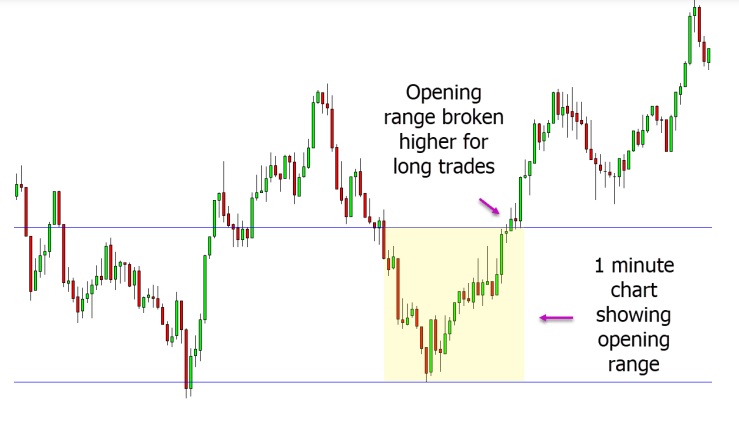 Implementing the Opening Range Breakout Strategy
The 30-minute chart below illustrates the opening range breakout technique. The opening range is the first 30-minute candle of each daily session.

As the 30-minute starting range falls, aggressive traders can short bet. These traders may ride any subsequent decline for the rest of the trading day.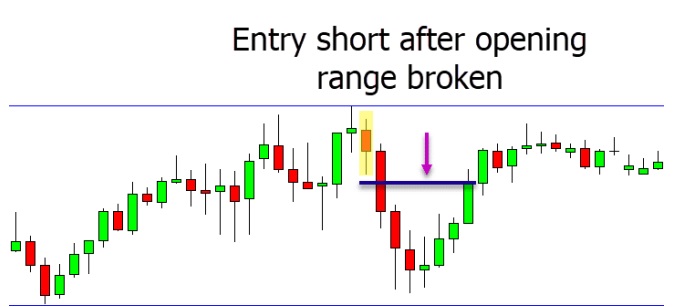 But, more conservative traders may wait and watch the opening range and daily highs and lows. In the example below, we take the same chart but show how a cautious trader might wait too short until the previous daily session's low is broken. Before short betting, this method can confirm.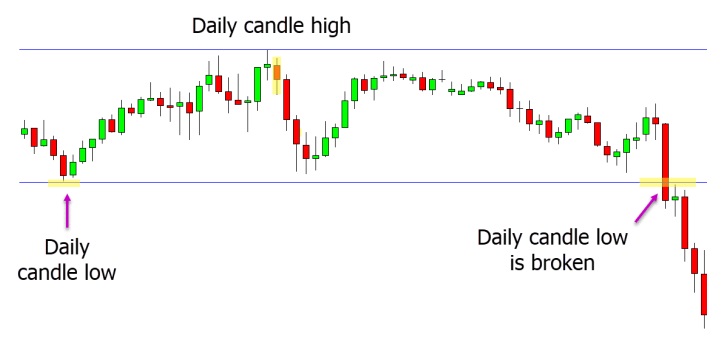 Opening Range Breakout Indicators
It can be difficult to follow all stock markets, Forex pairs, and other markets, such as those for cryptocurrencies and metals, for potential opening range breakout settings. Yet, an indicator can immediately spot an initial range breaking out and alert traders to prospective trades.
The MT4 opening range breakout indicator generates two chart lines to help traders find trades. This simplifies trade evaluation.
Utilizing an Opening Range Breakout Scanner
A starting range indicator may help, but a scanner or expert adviser that automatically places trades based on the opening range breakout technique is convenient. Because watching many markets for setups is time-consuming and challenging.
This article's opening range breakout scanner helps traders locate trades that meet their parameters. This scanner lets traders customize entry, stop loss, and profit objective parameters.
Even though this expert adviser isn't free, traders can use the demo to evaluate if it fits their trading style. The starting range breakout scanner simplifies trading and frees up time for strategy.